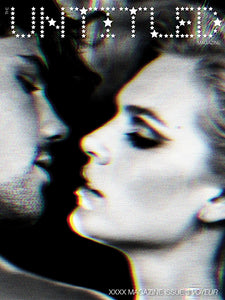 THE UNTITLED MAGAZINE - VOYEUR ISSUE 3 PRINT EDITION
Regular price
Sale price
$75.00
---
THE UNTITLED MAGAZINE VOYEUR ISSUE 3
PRINT EDITION (2011)
238 Pages, Perfect Bound. 8.5" X 11" Limited Edition Collectors Issue
Fashion, contemporary art, film, music, photography, culture, controversy, exploration and expression…. THE UNTITLED MAGAZINE is the new wave forward...
The Untitled Magazine's "Voyeur" Issue 3 features productions by over 30 international photographers, artists and directors including: Andrea Tese, Anne Koch, Blindmice, Brian Gonzalez, Catherine Anyango, Chiara Cola, Delaney Bishop, Diana Eugeni Le Quesne, Diego Corredor, Dimitri Hyacinthe, Henry Jacobson, Indira Cesarine, Iris Brosch, Janine Gordan, Jessica Mitrani, Jordan Doner, Karine Laval, Konstantinos Menelaou, Michael Daks, Michael Williams, Monica Elkelv, Morgan O'Donovan, Patricio Guillamon, Paul Windridge, Peter Luckner, Romy Northover, Ronnit Hasson, Sean Capone, Sophia Deininger and Zaiba Jabbar.
This limited edition collector's issue is now available in print. The first of XXXX Magazine, "The Untitled Magazine" editions to cross over into a printed publication, the video productions from the issue premiered in December 2010 at Art Basel Miami in a 3 day exhibit sponsored by The American Friends of The Louvre, Quintessentially and Miami Art Museum Contemporaries.
Print Edition: 238 Pages
Perfect Bound  8.5" x 11" Limited Edition Collectors Issue

Shipping Info:
The Untitled Magazine collector print editions are currently available for purchase with direct delivery in the United States and select international countries.
Estimated delivery time is 7-14 days unless otherwise specified when ordering.
International deliveries are in accordance with the Untitled States Postal Service Delivery policies.
For International Delivery if your location is not specified, please contact us.