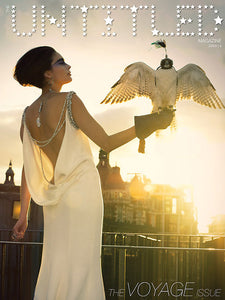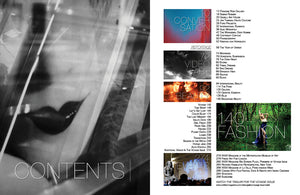 THE UNTITLED MAGAZINE - VOYAGE ISSUE 4 PRINT EDITION
Regular price
Sale price
$50.00
---
THE UNTITLED MAGAZINE VOYAGE ISSUE 4
PRINT EDITION (2011-2012)
276 Pages, Perfect Bound. 9" x 12" Limited Edition Collectors Issue 
The 1st Edition of The Untitled Magazine in print 
Fashion, contemporary art, film, music, photography, culture, controversy, exploration and expression…. THE UNTITLED MAGAZINE is the new wave forward...
For The Untitled Magazine's "Voyage" issue 4, we traveled the globe to find the most interesting up-and-coming talent in contemporary art and fashion. We investigated what people are talking about at home and abroad in culture and current events. We invited international journalists, artists, photographers and directors from locations as varied as Argentina, France, England, Peru, Greece, Italy, Holland, Canada, Germany, Russia, India, Sweden and The United States to explore what the theme "Voyage" means to them. For our editorials, we journeyed throughout Western and Eastern Europe, Asia, North and South America and beyond to be inspired and to inspire our readers. Take an adventure with The Untitled Magazine's "Voyage" issue, from the printed page to the online edition which features multimedia versions of the editorial productions such as fashion films, video art, documentary shorts, behind the scenes video interviews and the latest on cutting-edge art and fashion.
Featured in the issue are articles on designers Sabine Roemer and Jan Taminau; exclusive interviews with artists including Alec Monopoly and Kristian Von Hornsleth as well as exclusive editorial productions by photographers and directors including Andrea Tese, Bell Soto, Brian Gonzalez, Christian Witkin, Daniel Arango, Delaney Bishop, Diana Le Quesne, Diego Corredor, Dominique Polambo, Indira Cesarine, Iris Brosch, Jordan Doner, Kaelen Ohm, Michael Daks, Patricio Guillamon, Paul Windridge, Peter Philip Luckner, Sean Capone, Sophia Deininger, Elkelv & Theodorakou and Zaiba Jabbar.
Available in 2 formats:
Print Edition: 276 Pages, Perfect Bound.  9" x 12" Limited Edition Collectors Issue
Digital Edition: 300 Pages, fully interactive, with direct links to videos produced for the issue.

Shipping Info:
The Untitled Magazine collector print editions are currently available for purchase with direct delivery in the United States and select international countries.
Estimated delivery time is 7-14 days unless otherwise specified when ordering.
International deliveries are in accordance with the Untitled States Postal Service Delivery policies.
For International Delivery if your location is not specified, please contact us.