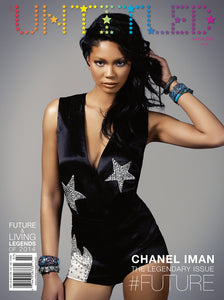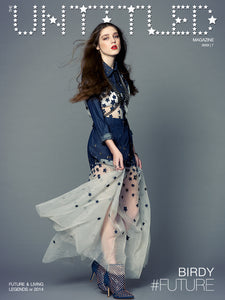 THE UNTITLED MAGAZINE - LEGENDARY ISSUE 7 PRINT EDITION - CHANEL IMAN COVER
Regular price
Sale price
$25.00
---
THE UNTITLED MAGAZINE LEGENDARY ISSUE 7
PRINT EDITION V3 (2014)
240 Pages, Stitched Binding. 9" x 12″ Glossy Paper
Cover featuring Chanel Iman (front) Birdy (back)

The 240-page "Legendary" Issue 7 presents a cross-over of the most inspirational talent in music, film and fashion - with a focus on "Living Legends" and "Future Legends". Cover featuring Chanel Iman (front) Birdy (back)
The Untitled Magazine's "Legendary" Issue 7 presents a cross-over of the most inspirational talent in music, film and fashion - with a focus on "Living Legends" and "Future Legends". The 240-page special collectors edition features the legendary Brooke Shields on the cover, as well as additional limited edition covers of Chanel Iman, Brooke Candy, Imogen Poots, Oh Land, Boy George, Tiesto, Sophie Kennedy Clark, RJ Mitte, Birdy, Riff Raff and John Newman.
The "Legendary" Issue 7 takes a look at the "legends" that have shaped our perception of reality, and that define our everyday lives. From the music we listen to, to the clothing we wear, to films we love – our identities are impacted by a handful of people that manage to creatively influence the world over. The issue features in-depth interviews and stunning original photography of some of the most recognizable talent of our time - from Lauren Hutton to Blondie, Boy George to Brooke Shields. We caught up with Factory superstar Jane Forth to get an insider point of view of Andy Warhol's world, as well as feature the legendary designer Vivienne Westwood and underground fashion hero Pam Hogg. DJ Tiesto talked to us about his inspirational fundraising projects and latest work, and the original master of the Q & A, George Wayne, sat down for an intimate tête-à-tête with stylist extraordinaire Phillip Bloch, who has joined The Untitled Magazine as Style Director from this issue.
Who are the legends of tomorrow? Our "Future Legends" section presents our predictions of the most promising talent of the new generation across fashion, film and music. These emerging artists all had something exceptional, challenging the norm with their unique qualities and represent the new wave of influencers. The Untitled Magazine presents over 50 exclusive photo shoots and interviews with these rising stars including Conor Maynard, Becky G, Sam Smith, RJ Mitte, Imogen Poots, Taryn Manning, Pia Mia, Sasha Pietrese, Zoey Deutch and many more. For this section, Nick Rhodes of Duran Duran photographed up-and-coming sister duo Bloom Twins in an achingly beautiful fashion series at the Bulgari Hotel in London, while rock star Bryan Adams got his camera out for his portrait series featuring the award-winning British musician John Newman.
Looking back and looking forward, this issue celebrates the people who make our lives interesting, enrich us and inspire us with new ideas and new directions. Who has defined our history and who will define our future?
Talent featured in the "Legendary" Issue 7 includes:
Adrian Lux, Aiden Grimshaw, Alexander Ludwig, Alyssa Sutherland, Ariana & The Rose, Banksy, Becky G, Bipolar Sunshine, Birdy, Blondie, Boy George, Brooke Candy, Brooke Shields, Bryan Adams, Byrdie Bell, Callan McAuliffe, Chanel Iman, Conor Maynard, Deap Vally, Deborah Harry, Deep Cotton, Ellapaige, Femme, Gabrielle Aplin, Gavin Rossdale, George Wayne, Havana Brown, Imogen Poots, Irina Lazareanu, Jane Forth, Jessica Stroup, John Newman, Josef Salvat, Kirin J Callinan, Lauren Cuthbertson, Lauren Hutton, Liz, Lorde, Luke Arnold, Masha, Meg Myers, Michael K Williams, MKTO, Nick Rhodes, Nina Nesbitt, Oh Land, Pam Hogg, Phillip Bloch, Pia Mia, Riff Raff, RJ Mitte, Sage The Gemini, Sam Smith, Sasha Pieterse, Seth Troxler, Sophie Kennedy Clark, Taryn Manning, The Bloom Twins, Tiesto, Tinashe, Valorie Curry, Vivienne Westwood, Yuna, Zoey Deutch
Shipping Info:
The Untitled Magazine print editions are currently only available for online purchase with direct delivery in the United States and select international countries.
Estimated delivery time is 7-10 days unless otherwise specified when ordering.
International deliveries are in accordance with the Untitled States Postal Service Delivery policies.
For International Delivery if your location is not specified, please contact us.