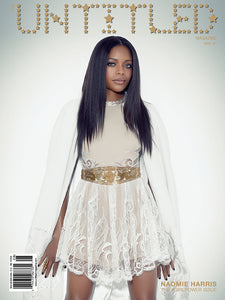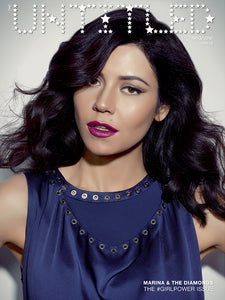 THE UNTITLED MAGAZINE #GIRLPOWER ISSUE 8 - NAOMIE HARRIS COVER (FRONT) MARINA (BACK) - PRINT EDITION
Regular price
Sale price
$25.00
---
THE UNTITLED MAGAZINE #GIRLPOWER ISSUE 8
NAOMIE HARRIS / MARINA COVERS - PRINT EDITION (2015)
240 Pages, Perfect Binding. 9" x 12″ Glossy Paper
Cover featuring Naomie Harris (front) & Marina & The Diamonds (back)

The 240-page #GirlPower Issue 8 presents the most inspirational women on the radar today across the arenas of fashion, film, music, art, business, politics, tech and sports. The collector's issue was photographed exclusively by female photographers and written exclusively by female journalists. Cover featuring Naomie Harris (front) & Marina & The Diamonds (back)
Exclusives include: Aimee Osbourne, Alanna Masterson, Ana Ivanovic, Arghavan, Banks, Bebe Rexha, Betty Who, Cake, Camren Bicondova, Carly Rae Jepsen, Charli XCX, CocoRosie, Dead Sara, Elle King, Elliphant, Flo Morrissey, Gemma Chan, Grace Chatto, Hannah Cohen, Holland Roden, Isabella Manfredi, Ivy Levan, Jacquie Lee, Jess Glynne, Jesse Jo Stark, Jessic Szohr, Justine Skye, Kerris Dorsey, Kimbra, Lenka, Limor Fried, Lizzie Brochere, Lizzy Caplan, Lizzy Plapinger, Lydia Hearst, Madison Beer, Marina & The Diamonds, Melanie Martinez, Naomie Harris, Neon Hitch, NERVO, Nicky Hilton, Ophelia Lovibond, Petite Meller, PINS, Rebecca Ferguson, Roisin Murphy, Rosie Lowe, Ruby Rose, Say Lou Lou, Sharaya J, Sophie Turner, Swoon, Tamera Foster, Tess Holliday, Tove Lo, Tove Styrke, Yelle
The #GirlPower Issue 8 of The Untitled Magazine presents some of the most inspirational women on the radar today across the arenas of fashion, film, music, art, business, politics, tech and sports. The collector's issue, which was released in September 2015 in over 30 countries, was photographed exclusively by female photographers and written exclusively by female journalists.
The #GirlPower Issue is a celebration of femininity in all its forms. The special edition features over 60 original photo shoots and interviews. Highlights include exclusives with Bond actress Naomie Harris; Rebecca Ferguson, star of Mission Impossible: Rogue Nation; Lizzy Caplan of Masters of Sex and Sophie Turner, star of Games of Thrones. Musicians Charli XCX, Banks, Marina & The Diamonds, Carly Rae Jepsen, NERVO, Sharaya J, and Tove Lo opened up about their paths to success and inspirations along the way. Street artist Swoon talks about art and activism, while we gained insight from fashion moguls Carmen Busquets, Alexandra Wilkis Wilson and Lauren Santo Domingo. Model-turned-actress Lydia Hearst shared her career ambitions, while plus-sized model Tess Holliday challenges stereotypes with her inspirational life story. These are just a few of the incredible women interviewed for this issue.
The 240-page collector's print edition features front covers of Charli XCX, Naomie Harris, Rebecca Ferguson, Lizzy Caplan and Banks, and additional back covers of Lydia Hearst, Marina & The Diamonds, Sharaya J, Say Lou Lou and Aimee Osbourne.
Shipping Info:
The Untitled Magazine print editions are currently available for online purchase with direct delivery in the United States and select international countries.
Estimated delivery time is 7-10 days unless otherwise specified when ordering.
International deliveries are in accordance with the Untitled States Postal Service Delivery or UPS policies.
For International Delivery if your location is not specified, please contact us.