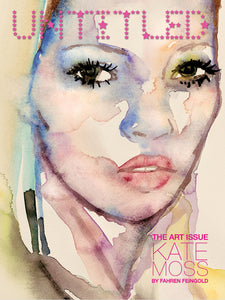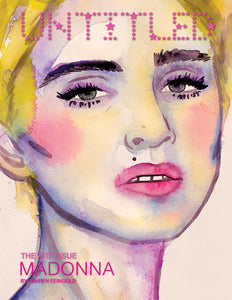 THE UNTITLED MAGAZINE ART ISSUE - KATE MOSS + MADONNA COVERS - DIGITAL EDITION
Regular price
Sale price
$5.00
---
THE UNTITLED MAGAZINE ART ISSUE - KATE MOSS COVER
DIGITAL EDITION
80 Page PDF (Digital Download)
Front Cover featuring Kate Moss by Fahren Feingold (front) Madonna (back)
The Untitled Magazine's latest collectors print + digital edition, The ART Issue is dedicated to all the artists that we have worked with over the years as well as future ones to come. Our double cover features a portrait of iconic supermodel and fashion entrepreneur Kate Moss by trailblazing watercolor artist Fahren Feingold, as well as her rendition of the iconic pop goddess Madonna. In an exclusive interview Feingold shares with us how she transitioned from fashion designer to full-time artist, what inspires her work, as well as her latest art and fashion collaborations. She created several stunning portraits exclusively for The Untitled Magazine of some of her latest muses, including musician Billie Eilish, actress Lea Sedoux, and model Adwoa Aboah.
Our ART issue celebrates many of the most extraordinary up-and-coming visual artists we love, including Kat Toronto aka Miss Meatface, who channels BDSM to create poetic performance-based photography as part of her own personal healing; pop culture contemporary artist Jeanette Hayes who is known for her collage-style aesthetic and newcomer Katya Zvereva, who creates bold floral works on canvas and expressive woodcuts. Our editor-in-chief Indira Cesarine shares in her first ever exclusive interview for Untitled the impetus for launching her own art gallery as well as what inspires her artistic choices as an artist and curator.
We cover the exhibit of the year, the 2019 Whitney Biennial, as well as the event of the summer, The Watermill Center's Summer Benefit and Auction, which featured an incredible array of performance and visual artists. We explore exhibitions that celebrate a centennial of women's suffrage and take a look at what "IRL" means to artists in today's digital world.
We caught up with rising musical artists Stella Santana (the poetic daughter of music legend Carlos Santana), Quebec - Congo sensation Annie Sama, performance visionary Ionnalee and the one-and-only Maggie Lindemann, known as a modern day anti-heroine.
Our fashion and beauty teams present for the issue several stunning editorial series including "Art & Avant Garde" featuring model Tricia Akello by photographer Fabio Paparelli and editor Roberto Morelli. We celebrate the art of Couture with our fashion spread "She's So Couture" by Rocio Segura and Alexander Garcia, and photographer Samantha Wolov inspires us with her artistic beauty series, "Flora."
Here's to celebrating creativity and all of the artists that inspire us daily. We hope you enjoy the issue!
Please Note:
Please note the Art Issue Digital Edition is a large file. A high-speed internet connection is recommended for quick downloading. File size 60MB
The Untitled Magazine digital editions are PDF files. PDF readers such as Mac Preview or Adobe Acrobat are recommended for viewing. The PDF is iPad compatible with a PDF reader app (available for free in the app store).
It is recommended to set your reader to a 2-page view with cover in your settings to view the magazine in correct double-page format.
The PDF will be available by a downloadable link immediately after your purchase is complete. You will find the link on your receipt and on your user account page.
Downloading The Untitled Magazine digital editions are subject to our terms and conditions, including not reproducing, publishing the content of the magazine to any other source, online, printed or otherwise without permission and appropriate credits.